Check out the bizarre PCB layout on this power supply.  A Pulse Instruments PI-702, I bought it for a few dollars at a hamfest. It was made in the mid-80's and plugs into Tektronix TM500-series mainframes. When I powered it up, BANG!, after which it had no output.  Here is what I found when I opened it up for a look:
The curvy, hand-taped traces are typical for the period, but look at how few components are in the two-thirds closest to the front panel compared to the number of pads! Plenty of those pads look like they have an 0.3″ DIP pattern, but have either discretes or nothing soldered to them.  The layout is also full of dead-ends and traces that don't go anywhere, and there is no silkscreen.  The back third is neat and tidy — it is all a bit Dr. Jekyl and Mr. Hyde.
All of this leaves me wondering what the crazy layout is for! If it is meant to dissuade reverse-engineering, it might work (it worked for me, so far…), but who would want to protect something as simple as a linear power supply? It is even stranger that the digital-to-analog conversion circuitry near the edge connector gets so little of the board, and is laid out quite cleanly compared to the power supply.  I suppose that this might be a case of multiple models using a single PCB, but what a devious mind it would take to merge multiple schematics into something that looks like this!
The problem itself was easy enough to find. One electrolytic capacitor dried out and blew up. You can see it at the lower-left of the second photo. It will be easy to fix, assuming it didn't take any other components with it.
The device itself is interesting.  It has three outputs, two of which are bipolar, each covering -25 V to +25 V continuously. They can be independently set with front panel controls, track an external input, or be controlled digitally. The bipolar outputs are limited to a wimpy 25 mA each, which is undoubtedly why it is called a bias supply. It also has a fixed +5 V output at up to 0.5 A.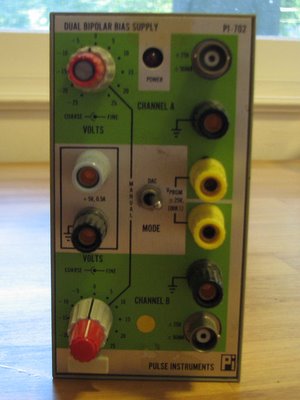 Now I know that the 80's were not only the decade of MTV and big hair, but at least one rather strange PCB layout.