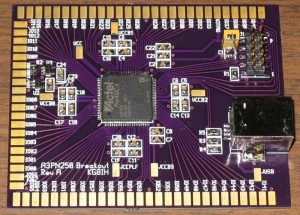 The A3PN250 FPGA Breakout Board is designed to be a foundation for other projects here at Skywired.  Unlike many FPGA development boards, the breakout board is designed to constrain the function of its ProASIC3 nano FPGA as little as possible, and as a result carries only a few additional components. Uniquely, it is designed to be placed on top of a copper-clad ground plane as a component in larger skywired projects.
The breakout board is an ongoing project. The resources below will evolve as the project matures.
Files
A3PN250 Breakout Board by Stephen Trier is licensed under a Creative Commons Attribution 3.0 Unported License.
Warning: This revision has errors, which can be worked around. However, corrections may be desirable before fabricating a PCB of your own.
Features
Designed for Microsemi SOC (formerly Actel) A3PN250 and A3PN250Z (ProASIC3 nano) in VQFP-100.

Can also break out A3P250 (ProASIC3) in VQFP-100.
May be adaptable to other ProASIC3 FPGAs.

Can be mounted directly on a ground plane.
Flexible power supply arrangements.
Two on-board voltage monitor/reset chips.

One to monitor FPGA core voltage (1.5V)
One uncommitted, but typically used for an I/O supply.

USB type B connector
2.4″ x 3.0″ PCB
Posts