Next in our tour of projects from the Four Days In May event at the Dayton Hamvention is an innovative radio-to-computer interface.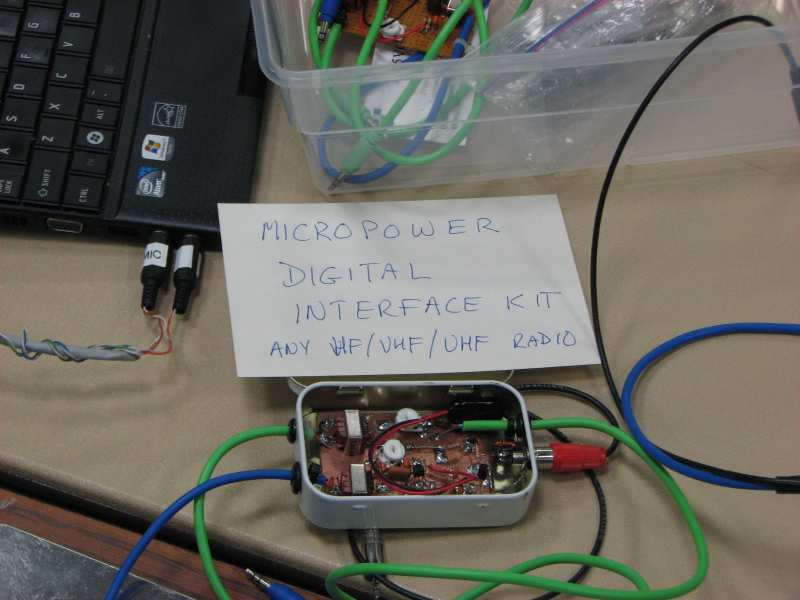 The unique feature of YADI, Yet Another Digital Interface, is a micropower VOX circuit. This lets it sip power while waiting for a signal, where other interfaces are less battery-friendly. The secret is that the VOX amplifier is biased in "class E", according to its designer, Dana Browne AD5VC. (It is possible he meant class C, since class E amplifiers are tuned and a VOX amp is broadband.)  That means that the amp uses no bias current when there is no signal. Its biasing also causes it to rectify the input, eliminating the need for an additional rectifier. The quiescent current is less than the self-discharge current of a 9V battery. In other words, the battery loses more energy sitting on a shelf than this interface needs to keep idle.
Dana, with Jim Giammanco N5IB, designed it with an eye towards emergency communications, particularly after hurricanes in their home state of Louisiana. It is designed to interface any radio and to any computer sound card, to support the many digital modes available today.
A kit version of the interface is being produced by the Baton Rouge Amateur Radio Club. The kit version was also on display at FDIM, but unfortunately, my photos of it did not come out. Suffice it to say that the kit includes a good-looking PCB, features easy through-hole assembly, and fits in a mint tin. The price is $35.
Unfortunately, I can't find a link for the kit, other than some copies of the manual on a file sharing site. The BRARC web site is a vacant placeholder, and Google turns up no other leads. I hope this worthy kit becomes available soon and gets the publicity it deserves.