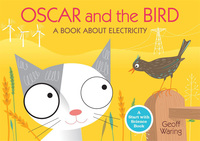 Oscar and the Bird: A Book About Electricity
Geoff Waring
Candlewick Press, 2008
"Will you show me something, Daddy?" asked my three year old son as he padded down the basement stairs and scampered to my workbench.  Forever wanting to know how things work, he likes to sit on my lap and look through my magnifier lamp at whatever is on hand.
On hand that day was my NorCal 40A.  I popped open the clasps on the lid and opened it up, and the questions began.
"What's that, Daddy?"  He pointed to an LM393 op amp.
"It's an amplifier. It makes things louder."
Then we got into dangerous territory.
"What are those, Daddy?"
"What are what?"
"The blue things."
"Oh! Those are capacitors."
"What do they do?"
I was stuck.  How do I explain decoupling capacitors to someone who doesn't know yet what electricity is?  I said something garbled about getting rid of the part of the electricity we don't want.  He accepted my explanation, but it bothered me.  He wanted to know about electronics, but I didn't know where to start. Continue reading "Teaching Electronics to a Preschooler"