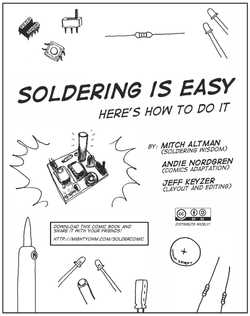 The Soldering is Easy one-page comic has grown to an eight-page comic book, and it's available in 12 languages! Mitch Altman, Andie Nordgren, and Jeff Keyzer created the original, and the translations were done by volunteer translators. It's a great idea and well worth a read.
Here is every translation so far, all from Jeff's MightyOhm blog:
Thanks, Mitch, Andie, Jeff, and translators for your great work!