A few weeks ago, I went to the Dayton Hamvention and the accompanying QRP event, Four Days In May (FDIM). QRP-ARCI always puts on a good program for FDIM, with a full day conference on Thursday, the day before Hamvention opens, and evening events Thursday, Friday, and Saturday.
Among the evening events are a show-and-tell night and a building contest night. Show-and-tell is open to anyone to bring a QRP-related project to share, whether finished or work-in-progress. The building contest has had varying rules over the years, but this year it had several categories, including kit-built radios, scratch-built radios, and station accessories. Judging was by audience ballot.
I forgot about show-and-tell night and regretted it. The FPGA morse code keyer would have fit right in.
I took some photos and notes from the evening events and will be sharing them over the next few weeks.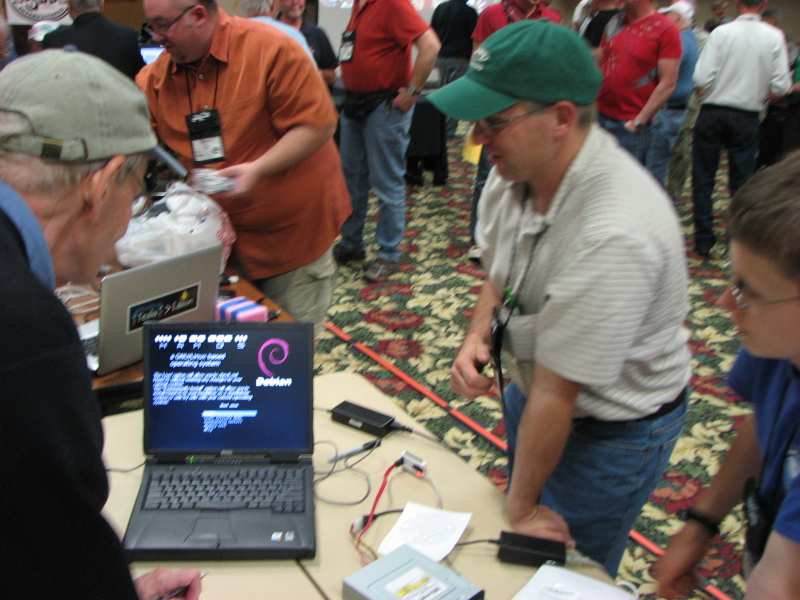 First up is HamOS. Rich Gordon KD0BJT and Brady AC0XR were demonstrating this Linux-based operating system and handing out CD-R's as fast as they could burn them. HamOS is a GNU/Linux distribution focusing on ham radio, with a variety of radio applications pre-installed. I can't find a download link for HamOS, but hopefully that will be rectified soon.
Rich was lucky enough to get the "BJT" (Bipolar Junction Transistor) acronym in his call — and it looks like it is sequentially assigned, not vanity!
Rich and Brady also produce the lowSWR podcast, to which I have just subscribed.